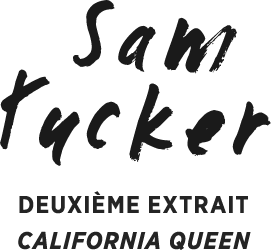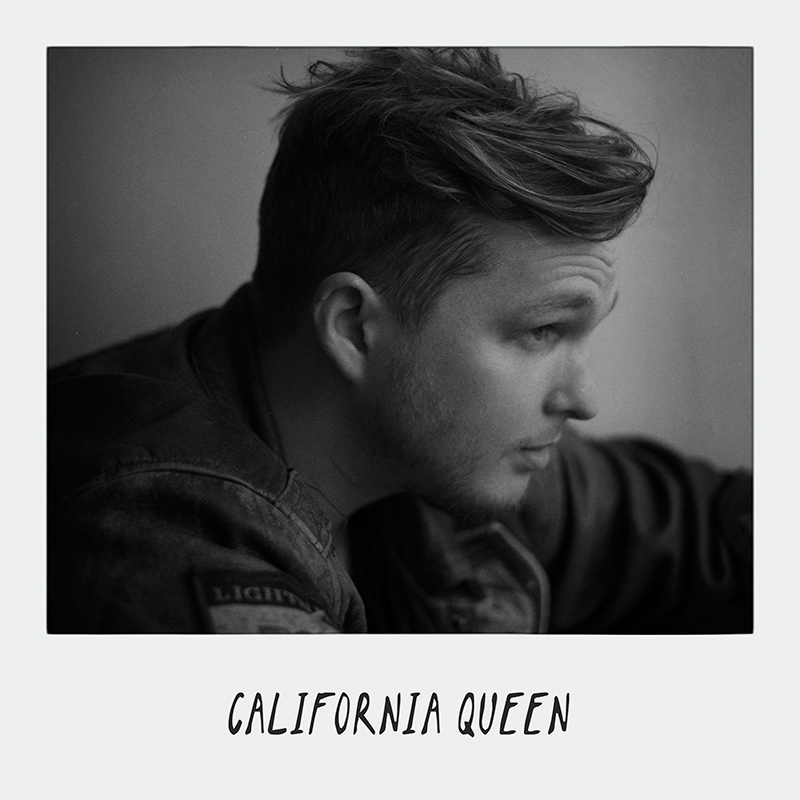 SAM TUCKER
CALIFORNIA QUEEN
nouvel extrait disponible maintenant
new single available now





Please don't do away with my California Queen
To be back in California well if that won't be the dream
I ripped my Levi's in the garden and I remembered where I'd been
Addicted and lost in the fog of a broken social scene

SAM TUCKER NOUS PRÉSENTE AUJOURD'HUI CALIFORNIA QUEEN, DEUXIÈME EXTRAIT D'UN EP À PARAÎTRE À L'AUTOMNE

« Très heureux de lancer mon deuxième single, California Queen! Merci à tout ce talent incroyable qui s'est réuni en studio pour monter cette chanson à temps pour l'été. Baissez les vitres, montez le volume et allez faire un tour. »

Tout comme lors de son premier single Powder Fame, il a enregistré California Queen avec le réalisateur Rob Heaney (Franklin Electric, Patrick Watson), accompagné de Joe Grass à la guitare, Mishka Stein à la basse et Robbie Kuster à la batterie.

EN SPECTACLE
Sam Tucker sera en spectacle au Festival International de Jazz de Montréal le 28 juin sur la scène de la tente Heineken. Il sera également en prestation à Québec le 15 juillet lors du Festival d'été. Plus de dates à venir !


______________


SAM TUCKER PRESENTS CALIFORNIA QUEEN, NEW SONG FROM AN EP TO BE RELEASED IN THE FALL

"Very happy to release my second single, California Queen. Thanks to all the amazing talent who came together in studio to put this song together in time for summer. Get the windows down, the volume up, and go for a ride."

As with his first single Powder Fame, Sam recorded California Queen with producer Rob Heaney (Franklin Electric, Patrick Watson), accompanied by Joe Grass on guitar, Mishka Stein on bass and Robbie Kuster on drums.

ON STAGE
Sam Tucker will perform at the Montreal International Jazz Festival on June 28th at the Heineken Tent! He will also be playing in Quebec City on July 15th during the Summer Festival. More tour dates to come!
- 30 -
SOURCE: AUDIOGRAM
SAM TUCKER LIVE

28 JUIN 2018

MONTRÉAL, QC

Festival International de Jazz de Montréal

Gratuit – Free! (17h et 19h)

06 JUILLET 2018

SHERBROOKE, QC

Festival Sherblues & Folk

13 JUILLET 2018

GRANBY, QC

Chapiteau du Parc Miner

15 JUILLET 2018

QUÉBEC, QC

Festival d'Été de Québec

19 OCTOBRE 2018

ST-HYACINTHE, QC

Le Zaricot

08 NOVEMBRE 2018

QUÉBEC, QC

La Source de la Martinière

09 NOVEMBRE 2018

SHAWINIGAN, QC

Salon Wabasso

22 NOVEMBRE 2018

DRUMMONDVILLE, QC

Maison des arts de Drummondville

23 NOVEMBRE 2018

ST-ROMUALD, QC

Vieux Bureau de Poste

30 NOVEMBRE 2018

ST-EUSTACHE, QC

La Petite Église

25 JANVIER 2019

DÉGELIS, QC

Centre Culturel Georges-Deschênes

16 FÉVRIER 2019

LAVALTRIE, QC

La Chasse-Gallerie

16 MARS 2019

WEEDON, QC

Centre culturel de Weedon

22 MARS 2019

TROIS-RIVIÈRES, QC

Salle Anaïs-Allard-Rousseau

18 AVRIL 2019

SAINTE-THÉRÈSE, QC

Cabaret BMO

25 AVRIL 2019

SAGUENAY, QC

Salle Saguenay