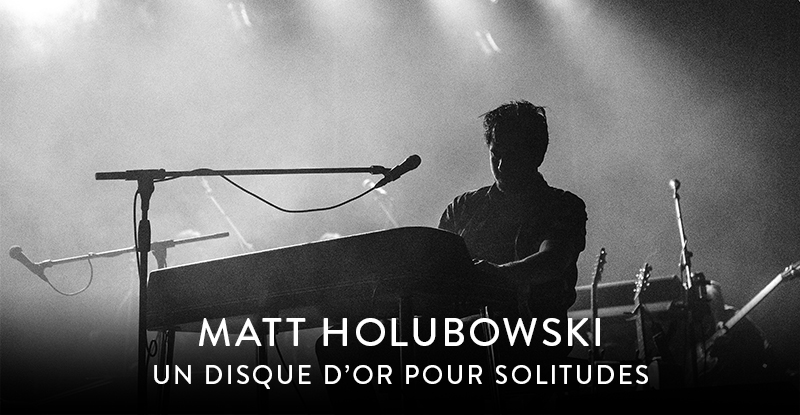 Lors de la plus récente édition du festival Osheaga, Audiogram a remis à Matt Holubowski un disque d'or pour souligner les 40 000 albums vendus de son album SolitudesI. Entouré d'amis et de partenaires, l'artiste était visiblement ému de recevoir cette distinction exceptionnelle.


« Les trois dernières années ont été un périple absolument magique. On a voyagé, on a fait de la musique dans des contextes tellement inspirants et variés et on a travaillé comme des déchaînés. Bien honnêtement je n'avais aucune idée dans quoi je m'embarquais quand on a sorti Solitudes. Ça a été plus incroyable et beau et difficile que ce que je pouvais imaginer.

Merci à tous ces gens à qui ce disque appartient réellement et merci à ceux qui ont été au rendez-vous depuis 2 ans. Je vous aime énormément. »


Matt se dirigera prochainement aux États-Unis afin de présenter au public américain son répertoire en format plateau double avec Vera Sola. Il s'arrêtera dans quatre villes américaines, soit New York, Washington, Philadelphie et Boston. Au mois d'octobre, il se produira en première partie de l'artiste suisse Sophie Hunger le temps de cinq spectacles en France.


///


MATT HOLUBOWSKI: GOLD RECORD CERTIFICATION FOR SOLITUDES

At the most recent edition of the Osheaga Festival, Audiogram presented Matt Holubowski with a Gold Record certification plaque to mark 40,000 Solitudes albums sold. Surrounded by friends and collaborators, the artist was visibly moved to receive this exceptional distinction.


''The last three years have been an absolutely magical journey. We traveled, we made music in such inspiring and varied situations and we worked like crazy. Quite frankly I had no idea what I was getting into when launched Solitudes. It was more incredible and beautiful and difficult than I could've ever imagined. A huge thanks to all those people to whom this record really belongs and thanks to those who have been there for past 2 years. I love you so much.''


Matt will soon be heading to the United States to present his repertoire on stage. He will perform in four cities, namely New York, Washington, Philadelphia and Boston, as a double feature with American artist Vera Sola. He will travel to France in October and will perform for five tour dates as opening act of Swiss singer-songwriter Sophie Hunger.

- 30 -
SOURCE: AUDIOGRAM





BILLETS EN VENTE MAINTENANT // TICKETS ON SALE NOW
mattholubowski.com