Ian Kelly et son complice Jon Day ont enregistré une prestation pour la série « Live From…» d'iTunes au Apple Store à Montréal l'hiver dernier. Cet enregistrement sera disponible de façon exclusive sur iTunes dès demain !
Procurez-vous 8 chansons d'Ian Kelly, versions inédites en spectacle, tirées de son plus récent album Speak Your Mind et de son premier album Insecurity. Dès demain sur iTunes!
Ne manquez pas Ian Kelly en spectacle cet été au Québec!
Pour les détails et les mises à jour, allez sur :
iankellysmusic.com et audiogram.com
Ian Kelly and his keyboard player and friend Jon Day recorded a performance for the iTunes series "Live From…"at the Apple Store in Montréal last winter. This recording will be exclusively available for sale on iTunes starting tomorrow!
Get new live versions of 8 of Ian's songs pulled from his most recent album Speak Your Mind  and his first album, Insecurity. As of tomorrow, on iTunes!
Don't miss Ian Kelly on tour in Quebec this summer!
For more details and updates, please go to:
iankellysmusic.com and audiogram.com
- 30 -


Clip audio : Le lecteur Adobe Flash (version 9 ou plus) est nécessaire pour la lecture de ce clip audio. Téléchargez la dernière version ici. Vous devez aussi avoir JavaScript activé dans votre navigateur.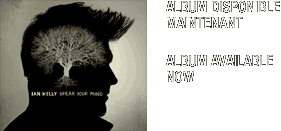 Téléchargements / Downloads
Contacts
MÉDIA ALBUM
etienne roy
attaché de presse

514-285-4453, poste 232
[email protected]
MANAGEMENT & BOOKING
geneviève côté
frilance musiquee

514-510-4622
[email protected]
MÉDIA CONCERTS
nadine méthot
l'Escouade

514-303-9295
[email protected]