Ian Kelly presents ALL THESE LINES
cliquez ici pour la version française >>

"I'm not the type who cares for tagging my own music, saying what one should think about it. To me it's quite simple: you listen and you enjoy it or you don't. It shouldn't matter whether there is more keys or more acoustic guitars or a big fat beat, the important thing is, do I like it or not."

These few sentences from Montreal's Ian Kelly, although short and, at first, of disarming simplicity, sum up Ian's take on music, his and others'. Let's not talk about music, let's listen to it; once you've listened to it, forge an opinion and I'll respect that.

The process leading up to Kelly's fourth album took place over several months; and was splintered over his touring activities with Sarah Slean, which took him across Canada early this year. Kelly was driven by the will to finally materialize, with upmost accuracy and until serene satisfaction, pieces that had inhabited him days and nights, notably in the tour bus going through the Rockies last spring.

A slow and matured gestation, counting on timely complicity of his co-producer Eloi Painchaud (Elisapie, Jorane), Kelly worked out of his home studio and at Eloi's, in the heart of the Laurentians, just five minutes apart from one another. And so, in about ten months time came to life the album's ten songs, part shade, part sun, halfway through the seasons.

All These Lines is also a painting of 4×8 feet created specifically for the album by Montreal visual artist Marc Gosselin, after – from the artist's own admission – some 1,500 listens. The work was then entrusted to Kelly's faithful sidekicks: graphic designer Janique Crépeau and photographer Martin Girard, who act once again as artistic directors of the album artwork. They have signed every artwork of Ian Kelly's four albums.

From the album's first notes in One Day, a soft and cozy folk melody which builds into an epic anthem, to Breakfast For The Soul, whose verse extends irresistibly, closing the album in a symphony of voices, distorted guitars and pounding drums – and the duet, The Best Years, which flirts with the sublime and where the man blends his unique voice with the just as unique one of Coral Egan, we are faced with an artist in full possession of his craft.

From the first to last note, Ian Kelly embodies this new album, with a completely untied and more than ever asserted voice; unrestrained, come rain or come shine.

The full album hits the stores on November 5th through Montreal-based label Audiogram (Karkwa, Ariane Moffatt, Peter Peter).
ALBUM LAUNCH IN MONTREAL
Thursday, November 7th 2013
Théâtre Corona 2490, rue Notre-Dame Ouest
5:30PM | Free entrance
IAN KELLY – Do You Love the Rain? (first single)

Available on 45tours.ca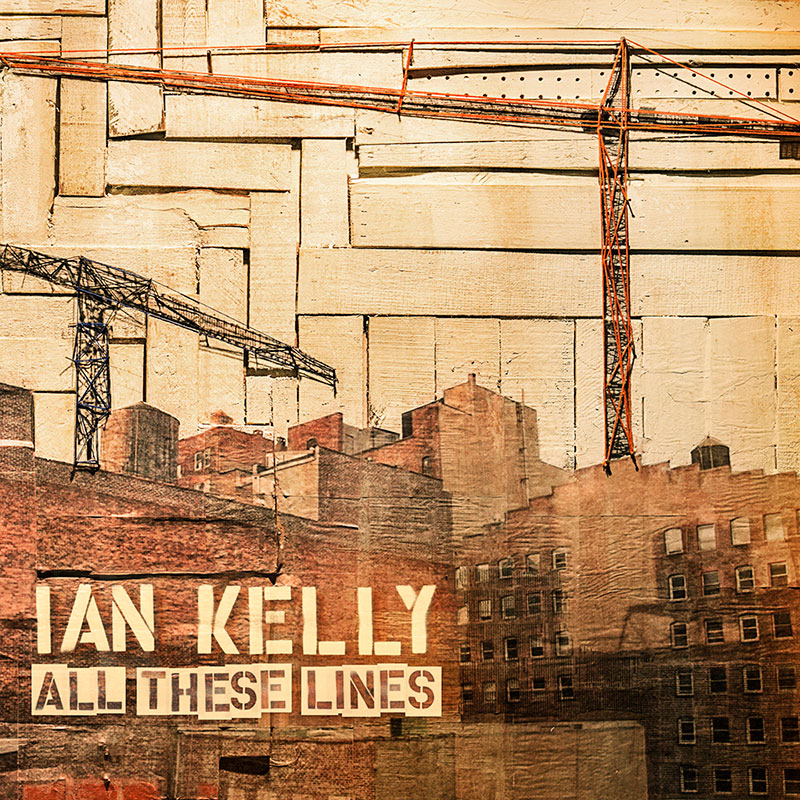 IAN KELLY
ALL THESE LINES
On sale November 5th




IAN KELLY – TOUR
MAR 07 2014 | Lasalle, QC | Centre Culturel Henri-Lemieux
MAR 08 2014 | Maskinongé, QC | Magasin Général Lebrun
MAR 13 2014 | Joliette, QC | Salle Rolland-Brunelle
MAR 14 2014 | Waterloo, QC | Maison de la Culture Waterloo
MAR 28 2014 | Ottawa, ON | Shenkman Arts Centre
APR 02 2014 | Montréal, QC | Théâtre Corona
APR 03 2014 | Québec, QC | Grand Théâtre de Québec
APR 04 2014 | Trois-Rivières, QC | Maison de la Culture
APR 05 2014 | Ste-Geneviève, QC | Salle Pauline-Julien
APR 10 2014 | Victoriaville, QC | Pavillon Arthabaska
APR 18 2014 | Ste-Thérèse, QC | Eglise Sacré-Coeur
APR 26 2014 | Chicoutimi, QC | Théâtre Palace Arvida
APR 30 2014 | Laval, QC | Maison des Arts
MAY 02 2014 | Sorel, QC | Café-Théâtre des Beaux Instants
MAY 03 2014 | Eastman, QC | Cabaret Eastman
MAY 24 2014 | St-Hyacinthe, QC | Centre des arts Juliette-Lassonde
MAY 30 2014 | Malartic, QC | Théâtre Meglab
JUN 06 2014 | Drummondville, QC | Maison des Arts

Other dates to come…