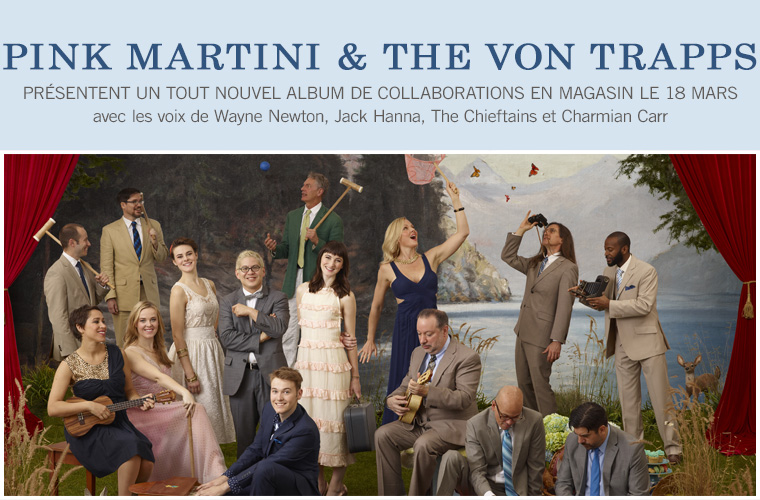 for the english version, click here
Dream a Little Dream, un nouvel album collaboratif de Pink Martini et The von Trapps, sera disponible le 18 mars. C'est la première œuvre commercialisée mondialement par Sofia, Melanie, Amanda et August von Trapp – les arrière-petits-enfants de Captain et Maria von Trapp. L'album comprend des collaborations spéciales de The Chieftains, Wayne Newton, Jack Hanna, et Charmian Carr (mieux connu comme Liesl von Trapp dans le film La mélodie du bonheur). Pour célébrer la sortie de cet album, Pink Martini et The von Trapps débuteront une tournée mondiale le mois prochain.

Dream a Little Dream comprend quelques nouvelles versions d'airs inoubliables (Dream a Little Dream, Fernando, Lonely Goatherd, Edelweiss, etc.), trois compositions inédites d'August von Trapp, ainsi que des chansons du répertoire suédois, rwandais, chinois, japonais et bavarois. Le dernier album de Pink Martini, Get Happy, s'est positionné comme 3e meilleur vendeur au Québec lors de sa sortie, et #1 au palmarès Billboard Jazz au États-Unis.

Pour plus d'information, visitez le pinkmartini.com.
DATES DE TOURNÉE CONFIRMÉES
19 JAN | Tucson, AZ
20 JAN | Santa Fe, NM
21 JAN | Scottsdale, AZ
23-25 JAN | Costa Mesa, CA
26 JAN | Chico, CA
28 JAN | Santa Cruz, CA
29 JAN | San Diego, CA
31 JAN – 01 FÉV | Palm Desert, CA
28 FÉV | Lexington, KY
01 MAR | Indianapolis, IN
02 MAR | Atlanta, GA
04 MAR | Milwaukee, WI
05 MAR | St. Paul, MN
06 MAR | Madison, WI
07 MAR | Chicago, IL
08 MAR | Cedar Rapids, IA
11 MAR | Kalamazoo, MI
14 MAR | Goshen, IN
21 MAR | Jacksonville, FL
22 MAR | Key Largo, FL
23 MAR | Tampa, FL
25 MAR | West Palm Beach, FL
26 MAR | Miami, FL
27 MAR | New Orleans, LA
11-13 AVR | Portland, OR

- 30 -
SOURCE: AUDIOGRAM
PINK MARTINI – Dream a Little Dream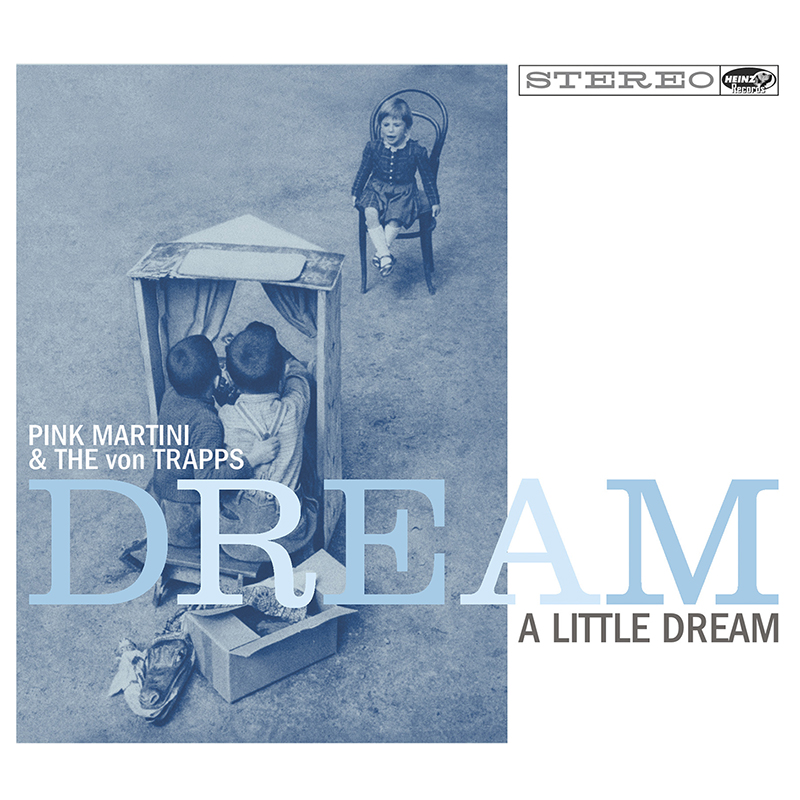 PINK MARTINI
DREAM A LITTLE DREAM
disponible le 18 mars 2014
1. Storm
2. Kuroneko no tango
3. Dream a Little Dream
4. Fernando
5. Hayaldah hachi yafa bagan
6. Friend
7. Die Dorfmusik
8. In stiller Nacht
9. Le premier bonheur du jour
10. Rwanda nziza
11. Gongxi
12. Hushabye Mountain
13. Lonely Goatherd
(avec Wayne Newton and Jack Hanna)
14. Edelweiss (avec Charmian Carr)
15. Thunder (avec the Chieftains)