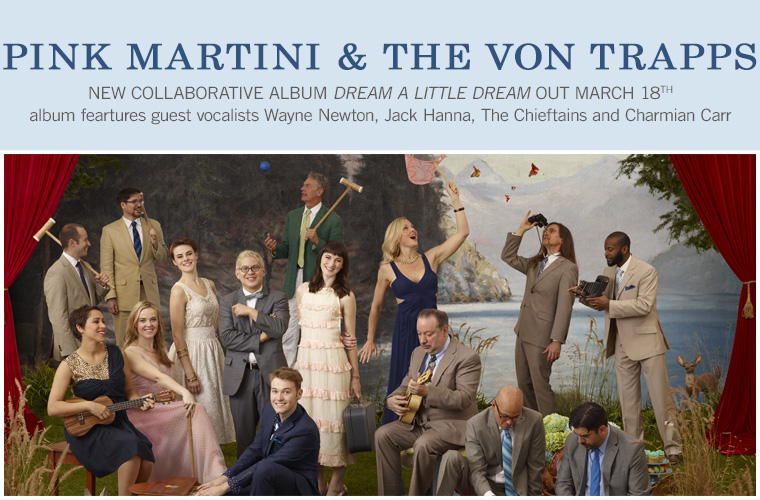 pour la version française, cliquez ici
Dream A Little Dream, a new collaborative album from Pink Martini and The von Trapps, will be released March 18th. This is the first major international release by Sofia, Melanie, Amanda and August von Trapp — the actual great-grandchildren of Captain and Maria von Trapp. The album also features special guests The Chieftains along with guest vocalists Wayne Newton, Jack Hanna, and Charmian Carr (the original Liesl in the film version of The Sound of Music). In celebration of the album, Pink Martini and The von Trapps are set to embark on a worldwide tour next month.

In addition to renditions of several beloved classic songs (Dream a Little Dream, Fernando, Lonely Goatherd, Edelweiss, etc.), the album features three original compositions from August von Trapp. The record also includes songs from Sweden, Rwanda, China, Japan and Bavaria. Pink Martini's most recent release, Get Happy, debuted at #1 on the U.S. Billboard Jazz Albums Chart and #3 on Quebec charts. For tour dates and information, visit pinkmartini.com.
CONFIRMED TOUR DATES
19 JAN | Tucson, AZ
JAN 20 | Santa Fe, NM
JAN 21 | Scottsdale, AZ
JAN 23-25 | Costa Mesa, CA
JAN 26 | Chico, CA
JAN 28 | Santa Cruz, CA
JAN | San Diego, CA
JAN 31- FEB 01 | Palm Desert, CA
FEB 28 | Lexington, KY
MAR 01 | Indianapolis, IN
MAR 02 | Atlanta, GA
MAR 04 | Milwaukee, WI
MAR 05 | St. Paul, MN
MAR 06 | Madison, WI
MAR 07 | Chicago, IL
MAR 08 | Cedar Rapids, IA
MAR 11 | Kalamazoo, MI
MAR 14 | Goshen, IN
MAR 21 | Jacksonville, FL
MAR 22 | Key Largo, FL
MAR 23 | Tampa, FL
MAR 25 | West Palm Beach, FL
MAR 26 | Miami, FL
MAR 27 | New Orleans, LA
APR 11-13 | Portland, OR

- 30 -
SOURCE: AUDIOGRAM
PINK MARTINI – Dream a Little Dream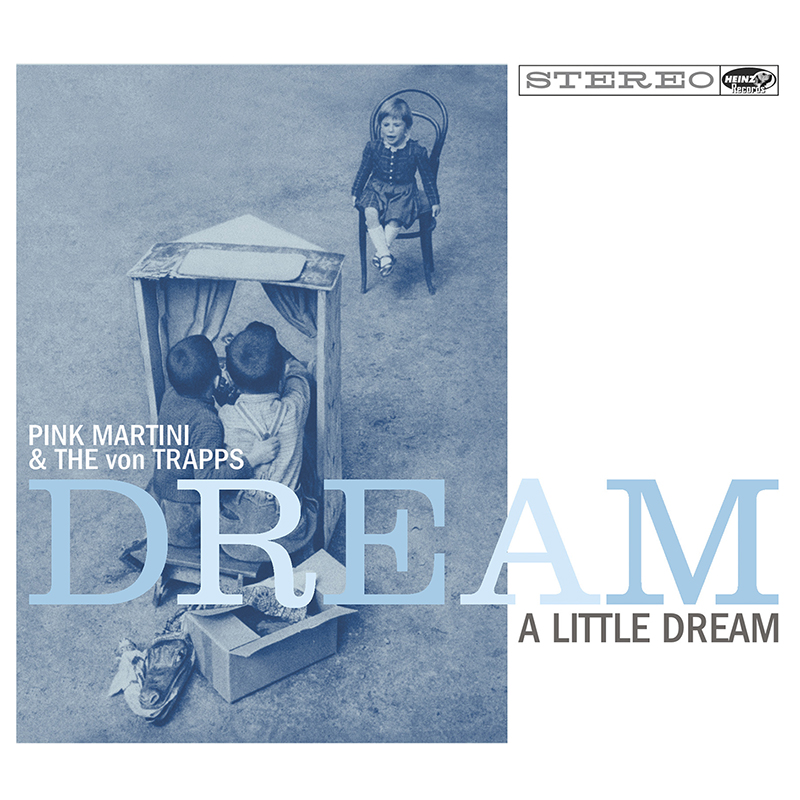 PINK MARTINI
DREAM A LITTLE DREAM
available March 18th, 2014
1. Storm
2. Kuroneko no tango
3. Dream a Little Dream
4. Fernando
5. Hayaldah hachi yafa bagan
6. Friend
7. Die Dorfmusik
8. In stiller Nacht
9. Le premier bonheur du jour
10. Rwanda nziza
11. Gongxi
12. Hushabye Mountain
13. Lonely Goatherd
(featuring Wayne Newton and Jack Hanna)
14. Edelweiss (featuring Charmian Carr)
15. Thunder (featuring the Chieftains)